Hardwood Flooring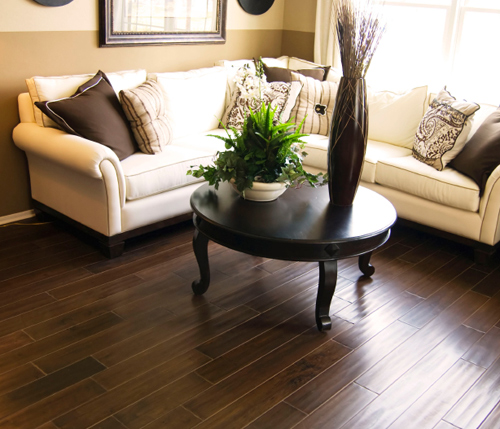 Hardwood flooring is timeless and has long been the choice of many homeowners. It enhances the warmth and adds character to any home and complements the decor of any room.
As a flooring product, hardwood floors offer many features and benefits to one of your most treasured possessions - your home. Like a fine piece of furniture, wood flooring increases in value and becomes more beautiful with time.
Wood is a natural resource, renewable and recyclable. Buildings, barns, ships and other structures made of wood often find a second life in wood flooring, cabinets, walls and ceilings. And leading allergists agree that wood floors are the perfect choice for a healthy home.
The state-of-the-art technology and almost limitless choices of today's stains, finishes, styles and designs make wood flooring one of the most practical, easy-care and versatile floor coverings today. Maintained properly, wood flooring should never have to be replaced. Rich, inviting hardwood floors are not only beautiful to live with, they can also add value to your home at resale time.
When it comes to natural beauty, it's hard to beat the look and warmth of a real hardwood flooring.
Hardwood floors come in 2 basic types of construction:
3/4" solid wood floors
unfinished, or pre-finished
installed over wood subfloors
use on, or above ground level
nail, or staple down
engineered wood floors
unfinished, or pre-finished
installed over dry concrete slabs, or wood subfloors
use above, on or below ground level
glue-down, staple, or float
Domestic
Red or White Oak
Maple
Walnut
Ash
Cherry
Pine
Imports
Brazilian Cherry
Maple
Walnut
Mahogany
Eco Friendly